Perhaps hard to believe, there was a time when rock n' roll did not exist in the world. Although it may be wrong to credit the Beatles for the birth of the popular genre, as they often incorporated pop and psychedelia into hard rock and experimented with various sounds, they definitely merit credit. Today not only marks the day Strawberry Fields in Central Park opened in 1985, named after The Beatles' song "Strawberry Fields Forever" written by Lennon, but it also would've been  Lennon's 75th birthday. To celebrate, we present you with 75 fun-facts you likely didn't know about The Beatles co-founder (according to the internet):
1. Lennon frequently stated he'd rather be a member of Monty Python than the Beatles.
Photo source: FanArt.tv
2. While on tour, he enjoyed playing Monopoly.
Photo source: Donald Sauter
3. Lennon and Yoko hired a psychic on staff to help advise them with business decisions.
Photo source: Great Dreams
4. The psychic on staff earned as much as their lawyers and accountant.
Photo source: Mind, Body & Spiritual Awareness
5. In his teenage years, Lennon's aunt and parental guardian, Mimi Smith, would express doubts of his success, saying "The guitar's all very well, John, but you'll never make a living at it."
Photo source: Digi Colored
6. Lennon first experienced LSD at a dinner party when his dentist, John Riley, slipped some in his coffee.
Photo source: Sounds Blog
7. His first band, The Quarrymen, would often practice in the bathroom, where Lennon stood shoe-less in the bathtub
Photo source: Fanpop
8. Lennon and Yoko made their first art performance together at London's Royal Albert Hall in an opaque white sack, contorting their bodies in silence on stage.
Photo source: Sands Of
9. Lennon wanted Jesus Christ and Adolf Hitler on the cover of 'Sgt. Pepper's Lonely Hearts Club Band' but was out-voted.
Photo source: Genius
10. Lennon demanded Yoko to write him a list of everyone she had slept with.
Photo source: Vanity Fair
11. On his track "How Do You Sleep?" from solo album, 'Imagine,' the lines "The sound you make is muzak to my ears" and "The only thing you done was 'Yesterday' were directed to Paul McCartney.
Photo source: Photographers gallery
12. When George Harrison lost his virginity, Lennon, McCartney and former Beatles' drummer, Pete Best, were in the same room as him.
Photo source: Fanpop
13. Harmonica was the first instrument Lennon learned to play.
Photo source: Ring of Stars
14. Bob Dylan introduced marijuana to Lennon and the rest of the Beatles.
Photo source: Consequence of Sound
15. He wanted his first wife, Cynthia Pwell, to resemble Brigitte Bardot; when she cut her hair short, he refused to speak to her for two days.
Photo source: Art Sheep
16. Sean, his son, first suspected his father was a Beatle after seeing "Yellow Submarine" on television.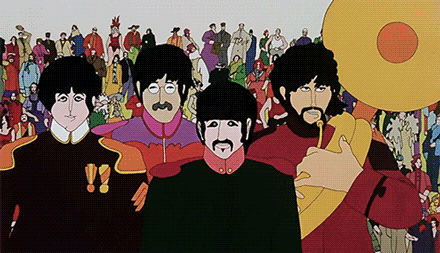 17. As a teen, Lennon considered himself a Teddy Boy.
Photo source: Music Stack
18. Lennon's former primary schoolmate said "If ever there was a scrap in the school yard, John was likely to be involved."
Photo source: Absolute Elsewhere
19. When asked about the uproar in America regarding his "more popular than Jesus" comment, Lennon responded "There are more people in America, so there are more bigots also."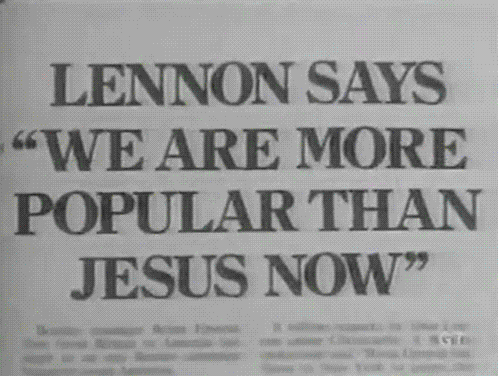 20. After growing tired of fans doing more screaming than listening at live shows, Lennon said "Beatles concerts are nothing to do with music any more. They're just bloody tribal rites."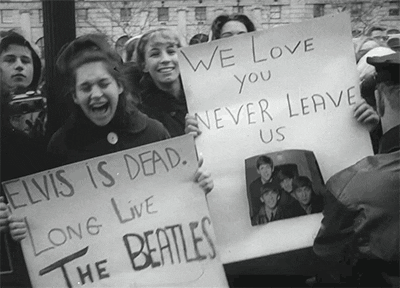 21. Lennon was extremely self-conscious of his big nose growing up.
Photo source: Tumblr
22. Before fame, Lennon expressed that he'd rather commit suicide than get a conventional job.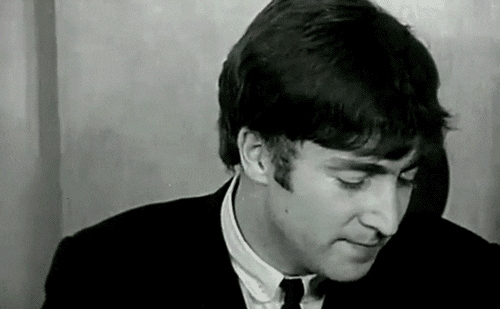 23. Just before his 21st birthday, Lennon experienced serious doubts about ever succeeding in music, as he felt too old to become famous.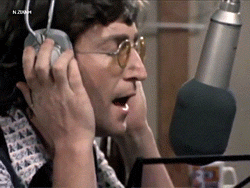 24. In 1967, Lennon bought a small and uninhabited island, called Dorinish, off the coast of Ireland for 1,700 GB pounds.
Photo source: Beatles Island
25. While on the road, John and George would room together, while Paul would room with Ringo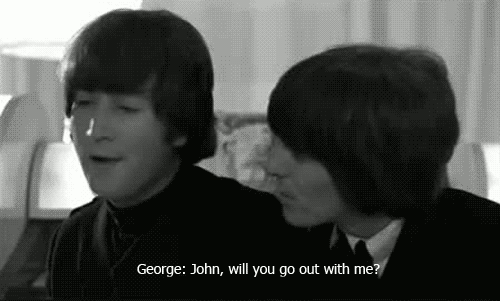 26. He read Timothy Leary et al's 'The Psychedelic Experience' from beginning to end in the middle of a bookstore.
27. He believed "You have to be a bastard to make it, and that's a fact. And the Beatles were the biggest bastards on earth."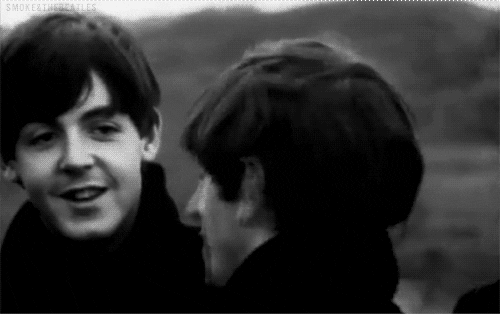 28. As a young child after realizing that every large department store in Liverpool had its own Santa Claus, he asked his father "How many Father Christmases are there?"
Photo source: MediaMiser
29. Never a good driver, he once crashed into a ditch and got 17 stitches on his face.
Photo source: Beatles Bible
30. His first wife, Cynthia, wrote her autobiography 'A Twist of Lennon,' on a typewriter Yoko gave Lennon and Cynthia's son, Julian.
Photo source: Eil
31. Lennon later became a cooking enthusiast and often made lunches for his entire staff.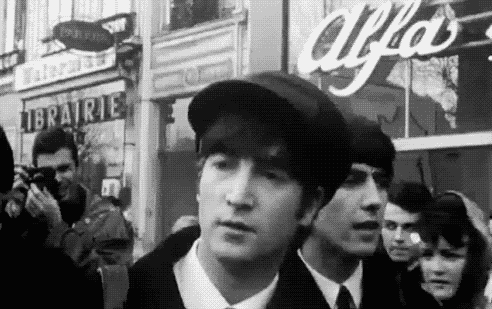 32. Yoko didn't know John was a Beatle the first time she met him.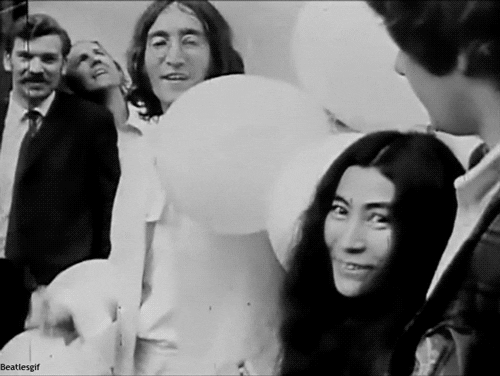 33. When Yoko was pregnant and in the hospital, Lennon put on a pair of pajamas and got into the empty bed next to her and held her hand.
Photo source: Idiot.fm
34. The most time Lennon spent with Cynthia after marrying her was on a weekend called "Operation Cynthia," where he planned to turn her on to LSD.
Photo source: Daily Mail
35. As a child, Lennon played cowboys and indians and wished he was the indian. His hero was Sioux Chief Sitting Bull.
Photo source: Son Of The South
36. While lying on his king-sized bed surrounded by possessions in his mansion, Lennon came up with the lyrics "He's a real nowhere man/Sitting in his nowhere land."
Photo source: upv
37. He refereed to 'Rubber Soul' as "the pot album" and 'Revolver' as "the acid album."
Photo source: The Beatles
38. Lennon punched another student at a college party for asking Cynthia to dance.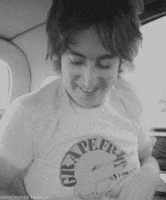 39. Later in life, Lennon discovered he has dyslexia.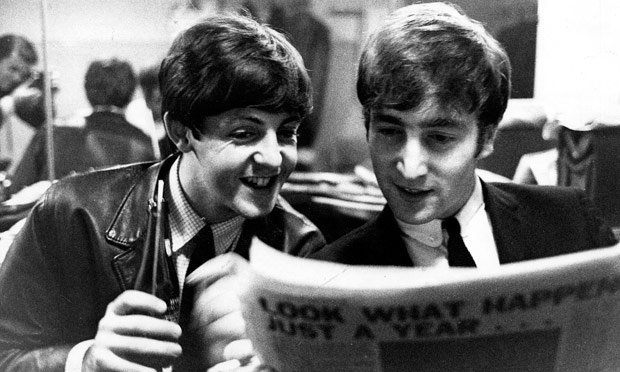 Photo source: The Guardian
40. When he moved into his West Village apartment, his neighbor was experimental composer John Cage.
Photo source: Seeing Noises
41. Lennon called McCartney's songs "granny music" after the Beatles split and bickering began.
Photo cred: Liverpool Echo
42. Paul McCartney showed Lennon how to play proper six-string guitar chords, as Lennon first tuned it like a four-string banjo.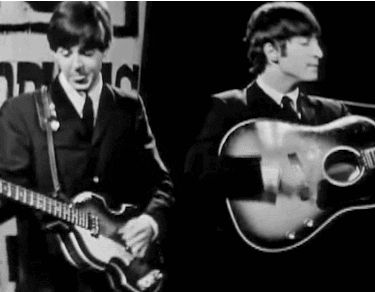 43- Lennon hired a private driver to be on call 24 hours per day for 36 GB pounds a week.
Photo cred: Liverpool Echo
44- At 37, Lennon wrote and drew an entire magazine titled "Speed and Sport Illustrated," which included portraits of soccer players, cartoon strips and an adventure story.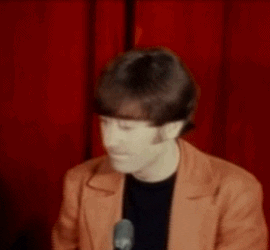 45- Lennon spoke of his relationship with Yoko as "different from anything before. This is more than a hit record. It's more than gold. It's more than anything."
Photo source: Liverpool Echo
46- Before embarking to Japan in summer 1977, he enrolled in a six-week Japanese course at Manhattan's Berlitz Language Center.
Photo source: Flick River
47- Lennon penned the lyrics "I'm so lonely I want to die" from "Yer Blues" while attending Transcendental Meditation sessions in India with the Beatles.
Photo source: Daily Mail
48. His father, Alfred, was the mascot for his school's soccer team.
Photo source: Daily Mail
49. For Yoko's 47th birthday, Lennon ordered her so many gardenias that the florist had to ship more in.
Photo source: KPBS
50. When Maharishi Mahesh Yogi asked Lennon why he was leaving early, he responded "Well, if you're so cosmic, you should know why."
Photo source: The Australian
51. Henri Matisse was one of his favourite painters.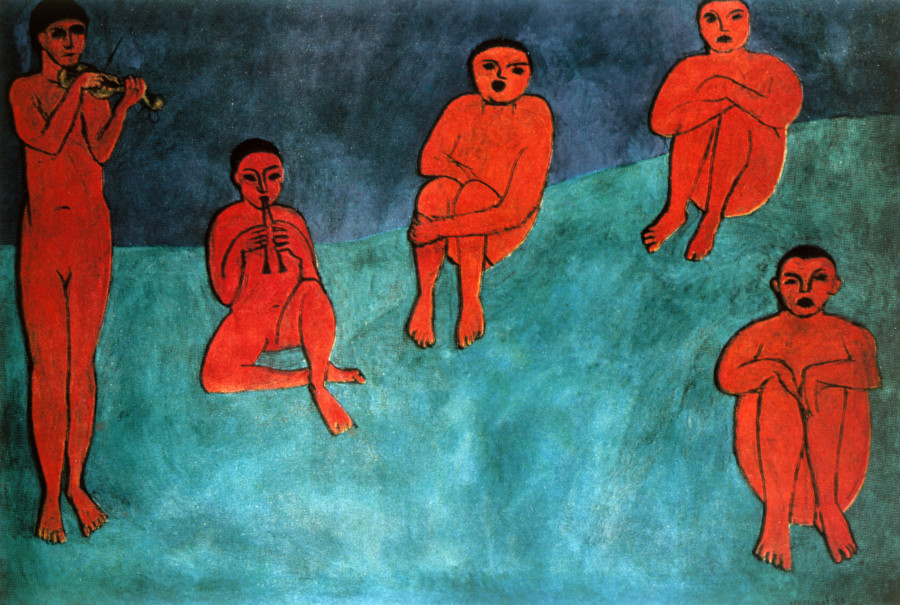 Photo source: Huffington Post
52. At a time, Lennon wanted to start a Beatles clothing retailer, similar to Marks & Spencer.
Photo source: The Dubai Mall
53. As a child, Lennon preferred receiving paint boxes, pencils and paper than toys.
Photo source: Liverpool Echo
54. Though experimenting with vegetarianism in the sixties, John was the only Beatle who didn't become a full-time vegetarian and always ended up eating meat.

55. He kept a light on while he slept, as he hated the dark.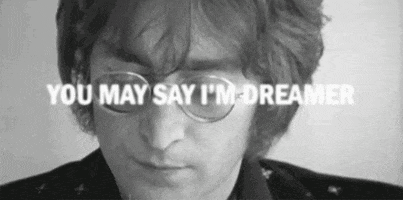 56. Early in the Beatles' career, Lennon would sing half the set with a humorous French, German or Mexican accent.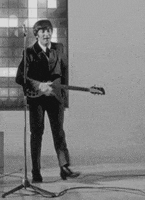 57. Lennon tried to get in touch with his father, Alfred, a week after Beatles manager, Brian Epstein, passed away from an overdose.
Photo source: Liverpool Echo
58. Yoko once invited Lennon to a 13-day dance festival that would take place entirely "in the mind."
Photo source: Liverpool Echo
59. When Lennon lived in America, the FBI studied all of his lyrics and analyzed all television appearances in an effort to find a legal reason to deport him.
Photo source: The Strut
60. Lennon stole a harmonica from a small music shop in the Netherlands. Years later once he was famous, a small group of fans traveled to the store and reimbursed the owner for his loss.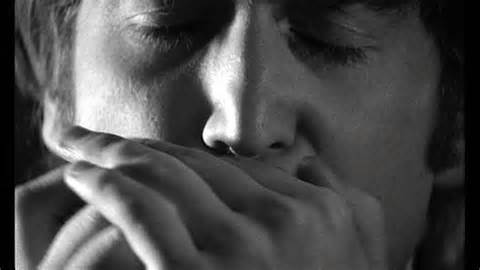 Photo source: Beatles Books

61. When a friend asked him the best lyrics he ever wrote, he replied "that's easy: all you need is love"

62. As a boy, Lennon walked around practically blind as he was too embarrassed to wear glasses.
Photo source: Liverpool Echos

63. After discovering Buddy Holly, Lennon begged his aunt to buy him a pair of black horn-rimmed glasses.
Photo source: Rolling Stone

64. Cynthia stated that her marriage to Lennon fell apart when he began taking large quantities of LSD.
Photo source: Liverpool Echo

65. Lennon once received a punishment in Sunday school for calling Scribes and Pharisees in the Bible "Fascists."
Photo source: Beatles Bible

66. After suffering a gastric flu, Lennon went on a liquid-diet for 40 days, reading cookbooks the entire time to curb his hunger.
Photo source: CBS Local

67. After a reporter called him "the fat Beatle" in 1965, he ate very little.
Photo source: Ring of Stars

68. After Lennon got his driver license in February 1965, many car dealerships parked an array of luxury cars outside his home hoping to make a sale.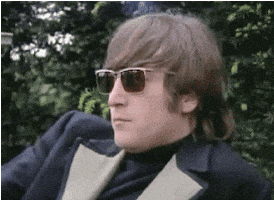 69. While on a yacht in the Bermuda Triangle, Lennon survived a storm with 65 mph winds and 20 foot high waves.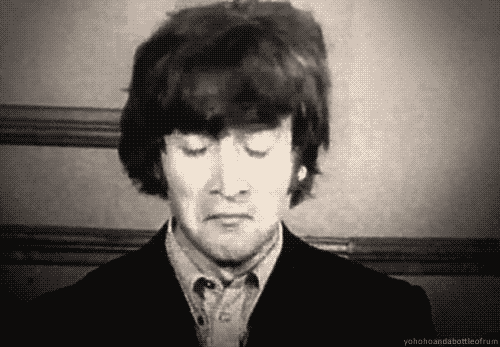 70. Lennon said the song "Help!" was a true cry for help.
Photo source: The Beatles

71. The Beatles producer, George Martin, once said Lennon was a "completely impractical man."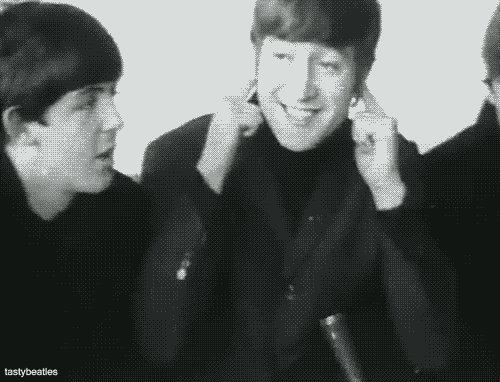 72. Though many critics believed Lennon could have been a successful film star, Lennon wasn't interested in acting as he considered it an even more confiding lifestyle than that of a Beatle.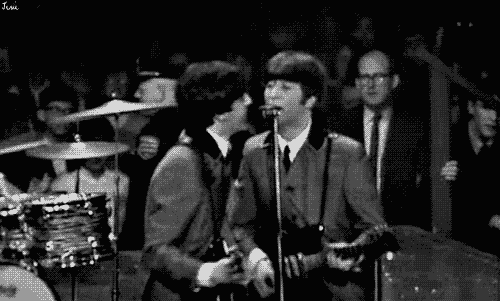 73. Yoko and Lennon held a two week-long 'Bed-Ins for Peace' held at Hilton Hotel in Amsterdam and in Montreal's Queen Elizabeth. During their seven day stay at the Queen Elizabeth, "Give Peace a Chance" was born on June 1st. That year's holiday season, billboards in 11 major world cities read "WAR IS OVER! If You Want It – Happy Christmas From John and Yoko."
Photo cred: Flickr
74. He drank 20-30 cups of tea or coffee daily

75. The Beatles were the first to feature the "devil horns" rock hand on an album cover.
Photo source: Huffington Post
---