Toronto based singer-songwriter KAPRI is one of Canada's most buzzed-about rising stars, thanks to the success of her chart-topping debut single "Deeper."
The bright and bubbly track reached #1 on the Canadian Spotify Viral Chart, notably passing Justin Bieber to reach the peak.
KAPRI recently dropped the video for "Deeper", and the visuals mirror the colourful song perfectly: there's no mistaking the pastel pallet of Toronto's west end shops as she dances through some of her favourite neighbourhoods.
We had a chance to chat with KAPRI about "Deeper" and how the video came together in a pinch.
---
---
UMUSIC: Your song "Deeper" serves as the perfect end-of-summer anthem. Why was it important for you to release this song at this point in time?
KAPRI: Timing is not something you can control but with this track I felt its release needed to be as close to summer as possible. The record is very bright musically and has a tropical-summertime feel to it. No matter what time of year I hear Deeper, I will always want to hold onto to that summer vibe.
UMUSIC: In an era of hard-hitting EDM, the song sports more of a throwback deep house vibe, yet feels super fresh. How did the song come together?
KAPRI: I've always had a love for the 90's dance sound and what it could do to a person on the dance floor. It just moves you! So when producer Kill Them With Colour had played a 2 min loop of a beat, that was still in its raw stage, I knew immediately it had the potential to recreate those feelings. Writing to the loop was quite simple; old-school vibes inspired the melody and lyrics while modern touches were added to the production.
UMUSIC: You've spent a lot of time touring the nightclub circuit. What are the biggest takeaways from your time spent on the road?
KAPRI: My biggest takeaway has been the experience I've gained. The more you perform, the more you see how different types of clubs and their patrons react to live music. Catering to your audience is key and the more you work the circuit, the more you're preparing yourself to be able to adapt to any last minute surprises.
UMUSIC: The video just premiered, and it sports a very colourful look at Toronto. What was the creative process for creating the visuals for "Deeper"?
KAPRI: When it came to the creative direction I decided it would be best to pull from my personal experience and have the video illustrate happenings of my everyday life. Since deeper is such an upbeat record, I personally scouted a location to match – that was Market 707 (located at Dundas & Bathurst.) It is a vibrant neighborhood with vendors that represent different cultural communities, which was essential to me. With only two weeks to execute, I played off of what I love most; performance. Opting for more of a performance-based video and less of a narrative I cast friends and contacts I have from the dance community to make it as authentic as possible.
Culture, fashion, personality, and dance influenced every part of this visual and I think both the day scene and the after-hour club scene captured this.
UMUSIC: Right off the bat, you make a joke about being on "Carib-Canadian" time. How does your music reflect your mixture of cultural influences?
KAPRI: Since the spirit of the Caribbean culture is so vibrant and festive, I love to play around with upbeat and bright sounds. Production wise, my culture is definitely reflected in the tempos and the rhythms that I choose.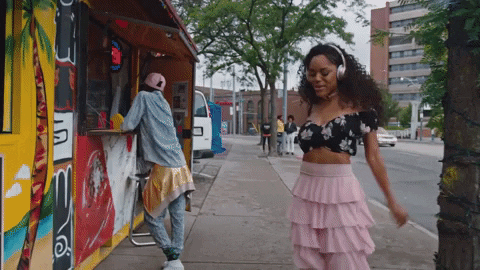 UMUSIC: You display some serious choreography skills in the video. Was dancing always an important part of performing for you?
KAPRI: Dance affects my music, performance and lifestyle. Dance has always played a major role in my life. My mom opened a dance school in Alberta over 20 years ago so I grew up in the studio and on the stage. When I dance on stage I feel as if it not only adds another layer to the overall performance but also to the message.
UMUSIC: There's a "day-and-night" split for the music video. Do you see yourself as more of an early riser or a night owl, or are you a balance of both?
KAPRI: I'd consider myself a bit of both, especially depending on the day….and night before. Getting an early start is key in managing my career. On the other hand, the majority of my gigs are late night or after hour venues so on those occasions, I'm a night owl who loves to get her sleep the following morning.
UMUSIC: What was your reaction when you found out "Deeper" hit #1 on the Canadian Spotify Viral Chart?
KAPRI: I was actually in bed when I found out. I had just woke up, looked at my phone and literally thought I was dreaming. It felt so good to know that my fam, friends and strangers shared this record. It's always rewarding when you witness a grassroots project, gaining traction nevermind pushing past mega stars.
UMUSIC: What's the next step for KAPRI?
KAPRI: More music, more dancing, more growth.
---
Throw on your headphones and give "Deeper" a spin:
---